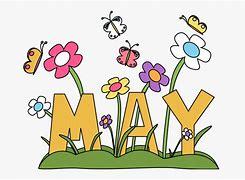 May is known as the month of spring, growth and renewal
The month of May was named for the Greek Goddess Mais (the goddess of fertility and growth).
It is customary to wear a rose in your hair on May Day.
May is also known for being one of the deadliest for tornadoes.
May was originally the third month of the year but was later moved to the fifth month by the Romans.
The Birthstone for May is the Emerald.
The Flower is the Lily.
The Zodiac signs for May are Taurus April 20- May 20 and
Gemini May 21 – June 20.
May is considered a lucky month for weddings.
Holidays and Observances for May:
May 1 – Mother Goose Day
May 3 – National Teacher's Day
May 14 – Mother's Day
May 16 - Do something good for your neighbor day
May 26 – Paper Airplane Day
May 29 – Memorial Day Observed