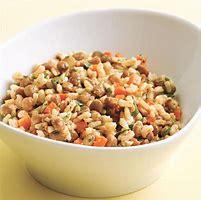 Lentils and rice: A classic, inexpensive, at-home meal
There are lots of inexpensive meal ideas out there, but perhaps a favorite, often-overlooked meals come from the combination of lentils and rice. A large bag of rice and a large bag of lentils collectively cost approximately $5-10 and will provide 15-30 meals, depending on size and what you add.
Mujadara is a Middle Eastern dish that layers caramelized onions on top of lentils and rice drizzled with a yogurt or garlic sauce. Cheap, easy, and delicious, you can find recipes online or make your own as you go! Season with lots of garlic and cumin; use a green or brown lentil.
Lentils and Rice Italian Style is an Italian classic. Mix lentils, rice, a healthy amount of olive oil, and some grated parmesan cheese. Season with lots of garlic and fresh herbs; use a green lentil.
Indian Lentils with Rice is another classic dish, this time using red lentils. Cook up your lentils with garlic, diced onion, ginger, turmeric, garam masala. Add two cups of water or coconut milk and allow to cook until creamy and thick. Serve over rice, top with green onions or cilantro.
Fakorizo is a Greek lentil and rice pilaf. Cook lentils and set aside, reserving one cup of cooking water. The cook onions, garlic, diced tomatoes, and salt and pepper. Add in rice that has soaked for at least 20 minutes, and the reserved lentil water and the lentils. Boil and reduce to a simmer for about 20 minutes. Season with any added spices and fresh herbs, fluff the rice, and serve with lemon wedges and feta cheese.
If you haven't given this classic combination a try, we highly recommend it. Protein and fiber packed vegetarian nutrition that will be gentle on the wallet, and a perfect solution for lunchtime meal prep.