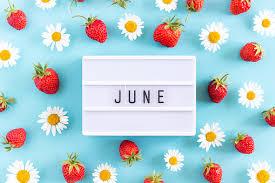 June is known as the month of the most daylight hours
June was named for the Goddess Juno, the patroness of Marriage and Childbirth.
June has a full moon named the Strawberry Moon, named for the bounty of the fruit grown at this time of year.  It is the last full moon of Spring and the first full moon of summer.
June is normally a very popular month to get married.
The huge tennis tournament Wimbledon is held in June every year.
Junes Birthstone is the Pearl, Alexandrite and Moonstone
Junes Flower is the Rose or Honeysuckle
Junes Zodiac sign is June 1 thru 20 – Gemini June 21 and on is Cancer
Important Dates and Interesting Dates in June are:
June 1 – Say Something Nice Day
June 5 – World Environment Day
June 6 – National Yo-Yo Day
June 14 – Flag Day
June 18 - Father's Day
June 21 - Summer Solstice
June 30 – Asteroid Day