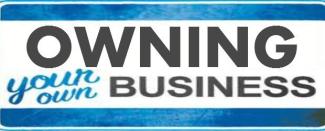 July Topic of the Month: Ever dream of starting your own business?
A lot of people in the last few years have ventured into starting their own business.  Some left their everyday 9 to 5 jobs and some just started a part-time side hustle to bring in some extra income.
It may seem like an overwhelming hurdle to jump, but owning your own business can give you the freedom to do what you love when and how you want. 
However, there is a lot to consider in taking this giant leap.  Make sure you assess the business venture completely.  There are usually a lot of initial investment costs, a budget; this may include wages, utilities, taxes, advertising costs, accounting fees, just to name a few. The hours you want to put into your business, this will include hours you are open, social media, prep time before and after hours, paying bills, etc.  You may want to reach out to other small businesses to get their input and perspective on owning a business. 
If this is a path you are thinking of, call Orsinger Investment Group, Inc.  We would look forward to discussing ways to set yourself up for success as you work to your new business.