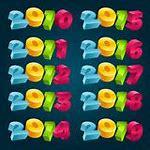 Interesting Topic of the Month: That's a Wrap on the 2010s: Reflections on the Last Decade
This New Year marks the end of the 2010 decade, in which we experienced a lot of major changes and important events. Below, we list several of the most notable from each year.
In 2010, the digital age advanced across the United States as smartphones become more popular and Instagram was founded.
In 2011, a series of tornadoes caused devastation in the South, marking in the deadliest American natural disaster after Hurricane Katrina and Osama bin Laden, the leader of al-Qaeda, was killed.
In 2012, Barack Obama was reelected president and the Space Shuttle Atlantis touched down at the Kennedy Space Center, ending the 30-year shuttle program starting with Columbia.
In 2013, Edward Snowden leaked highly classified documents from the National Security Agency and Colorado experienced its most destructive wildfire to date.
In 2014, comedy legends Robin Williams and Joan Rivers passed away and the ALS Ice Bucket Challenge took social media by storm.
In 2015, same sex marriage became legal in all 50 states and millennials became the largest U.S. generation.
In 2016, David Bowie, Prince, and Alan Rickman passed away and Hillary Clinton became the first woman nominated for president by a major political party. Donald Trump won the presidential election.
In 2017, the Women's March on Washington took place, becoming one of the largest single-day demonstrations in U.S. history and "fake news" gained popularity with Facebook shutting down nearly 500 fake accounts.
In 2018, American actress Meghan Markle married Prince Harry and NASA launched the Parker Solar Probe for its first mission to the sun.
In 2019, more than 100 women were sworn into congress and 16-year-old climate activist, Greta Thurnberg, spoke at the UN Climate Action Summit in New York and started the world's largest-ever protest on climate change.
The 2010s were full of many important events. We look forward to seeing what 2020 has in store.