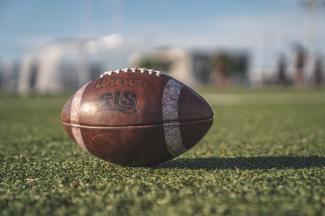 Interesting Topic Of The Month: Friday Night Lights: Fall Football Facts
Fall brings thoughts of cozy sweaters, picking apples, hayrides, and of course: football—the largest sport in the US. Whether it's getting together at a local high school game under the Friday night lights or watching college or professional football from the couch, this fall sport has always united communities. Here are some of our favorite facts about the sport's rich history.
Despite its current popularity, Teddy Roosevelt almost banned football in 1906. Luckily, there were major changes made to ensure player safety and the sport was never banned. The first televised game was between the Philadelphia Eagles and the Brooklyn dodgers in 1939. The game was played on approximately 500 television sets. Also, in 1939, quarterback Frank Filchock set a record that has been matched, but not broken: a 99-yard touchdown pass.
All NFL footballs are manufactured at the Wilson factory in the village of Ada, Ohio, with a population of 5,600. This small town, like many others, has a strong focus on high school football. High school football has been around since the late 19th century, running concurrent to the start of many college football programs. Up through the early 20th century, many college and high school teams played against one another. Other high school traditions, like pep rallies, mascots, homecoming, and marching band, likewise mirrored college football. As one of the oldest and most popular sports in US history, football season often brings back a sense of nostalgia for one's old high school glory days and brings the young and old alike under the Friday night lights. As this year's football season hits full swing, we at Orsinger Investment Group, Inc. hope you enjoy the memories and history of this great American pastime.