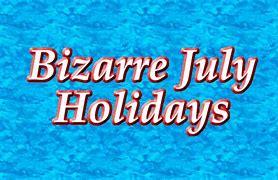 Fun Holidays to Celebrate in July
Of course, everyone knows about the 4th of July, and most choose to celebrate with fireworks, hot dogs, picnics, and as much red, white, and blue as possible. But, after having spent so much time indoors over the past year, and distanced from friends and family, perhaps you are looking for other reasons to plan a celebration in July. We think that lesser-known holidays deserve some celebration too. Below are some of our favorite July holidays with suggestions on how you might celebrate them!
July 9th is National Sugar Cookie Day! What better reason to make a batch of sugar cookies and go all out with a decorating party? You might make some Christmas shaped cookies and decorate them for Christmas in July or have a contest to see who can make the best summer cookie! Be sure to have milk on hand for prompt cookie eating.
July 14th is National Mac and Cheese Day! On this day, we recommend a macaroni and cheese competition! Invite your friends to try their best shot at mac and cheese and have a taste testing. For added fun, make everyone use one or two crazy ingredients like pickles or potato chips.
July 18th is National Listening Day! Today, you might gather a group of close friends or family and spend some time listening to each other tell stories or share a special memory or secret. If you do this, we suggest responding with questions to get deeper into listening.
July 25th is National Wine and Cheese Day! This day might be celebrating, self-explanatorily, at a winery, or by having a party where everyone brings their favorite wine and cheese. You might arrange a tasting or serve it in courses.
July 31st is National Mutt Day! To celebrate this special day, you might consider donating to a local dog shelter or rescue or adopting a pup of your very own. If you already own a mutt, we suggest spoiling them with some ice cream!
At Orsinger Investment Group, Inc. we hope your 4th of July is a happy one, and that every other day is just as special this month!