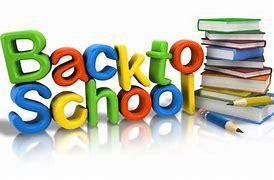 August Topic of the Month: Preparing for back to school
Getting ready for back to school can be a daunting task for both the adults as well as the children.  Here are some tips that may help the transition from summer fun to back to school easier.
Get the children involved in the school shopping.  Set spending limits on the they need and let them pick out what they like. (Ex:  clothes, school supplies, back backs, items to decorate their lockers, etc.).

Stock up on supplies as they will probably be on sale.  Children will need things like paper, pens, highlighters, markers, etc. all year long.

Start preparing a couple of weeks before school starts for the children to go to bed a little earlier, pack lunches the night before so it's not so hectic in the morning.

Have your children put their clothes out the night before so they don't have to worry about what to wear in the morning.

Have a calendar accessible to the whole family so everyone knows what's going on and when.  Like sporting events, practice and after school activities.
Orsinger Investment Group, Inc. hopes some of these tips may help with getting everyone ready for back to school.