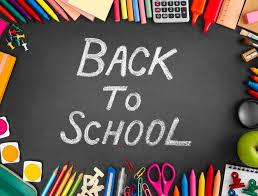 Interesting Topic of the Month: Preparing to go back-to-school during COVID-19
August always brings with it the excitement of heading back to school, but in 2020 that excitement looks a little different than normal. Many students will be staying home, many will be heading back to the classroom, and many will need to learn how to exist in a new normal with masks, hand sanitizing, and social distancing. We have some suggestions to help ease the transition into the 2020 school year.
If your children are going back into the classroom, they will most likely be required to wear a face mask. To encourage them to do so, you might make it into a game for younger students. Teaching small children that they are training to become a ninja or superhero when they mask up might encourage them to wear it more easily. A found sound effect they make whenever they put it on might make putting on the mask a fun part of their routine. For older students, you might let them pick several masks with a few different designs or colors so that they become a part of their outfit and feel exciting.
Students will also have to work on hand washing and hand sanitizing frequently. Make this as easy as possible. Let them pick hand sanitizers, hand soaps, and hand lotion. Give them a set to keep in their locker, one in their bag, and one in their lunch bag. If you're out school supply shopping, pick up a few extra hand sanitizers, soaps, cleaning wipes, etc. to give their teachers.
While it can be enticing to stock up on lots of pens, pencils, erasers, markers, etc., it might be worth keeping quite a few of those supplies at home. If you send students with fewer supplies, it's less likely they will misplace them, pick up other students' supplies, and ultimately risk infection. You might even make this into a game: send your students with 5 pencils at the beginning of the week. If the same 5 pencils come home at the end of the week, let them decide what you have for dinner or pick the movie you watch on the weekend.
There are a lot of different potential outcomes for what the school year will look like in 2020. No matter what the outcome is, we at Orsinger Investment Group, Inc. hope you and your family can still find joy in preparing for your return to classes.