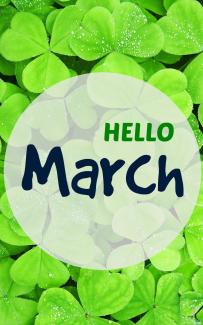 Interesting Topic of the Month: March Holidays You Might Want to Celebrate
As we approach the one-year anniversary of the COVID-19 virus's presence in the United States, many of us are starting to become antsy at home and are looking for new and exciting ways to shake up our routines. Of course, March brings us St Patrick's Day (and Daylight Savings), but March is chock full of other, silly, lesser-known holidays you might want to celebrate this year. Below we highlight some of the ones we think sound fun, interesting, or just downright silly, and suggest ways you might celebrate them.
March 1st is World Compliment Day. Today we encourage you to give at least one compliment to a stranger. Then, spend some time writing out compliments for yourself, your family, or your friends. You might cut up slips of paper and write compliments on them to be placed in a jar and pulled whenever you, or someone else at home, is feeling down.
March 8th is International Women's Day. Today we encourage you to thank a woman in your life for what she does to make the world a better place, whether you are a woman or not. You could also watch a movie or read a book about the contribution's women have made to our world.
March 13th is International Fanny Pack Day. Today, get extra silly and break out those old fanny packs we know you have in storage. Get the whole family or office in a fanny pack and take some silly photos. Bonus points if you style the rest of your outfit for the late 1980s.
March 26th is Make Up Your Own Holiday Day. Today—anything goes! Make it even more fun by having everyone in your house or office submit their holiday and explain why it should be celebrated. Vote on the one you all like the best and throw a celebration.
March 30th is Virtual Vacation Day. Spend some time today taking a virtual tour of a museum or place you have always wanted to visit. Cook a cuisine or order take out from a location that has always appealed to you. Use Street View in Google Maps to walk around a place you've never been!

We at Orsinger Investment Group, Inc. hope you enjoy celebrating some of the silly daily holidays we have come up with.