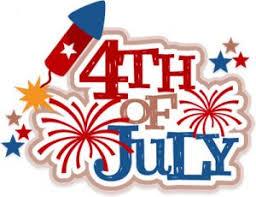 Interesting Topic of the Month: Celebrating the 4th of July in 2020
While we often celebrate the 4th of July at large events packed with people who want to see some fireworks, those events will look a little different in 2020. Many of these events have been canceled as a public health precaution preventing large gatherings. As of right now, though, there are still ways you can watch a fireworks display, perhaps from your own couch instead of at a crowded park.
New York City promises to still go through with the 44th annual Macy's fireworks display, which will air on NBC from 8 to 10 pm EST. The details on this event will become clear over the coming days. In addition, the White House still plans to host their "Salute to America," which will include music, remarks from the President, a military flyover, and over course, fireworks over the National Mall. If you cannot catch a local show live, it's worth tuning in to one of these spectaculars.
You might also consider putting on a show of your own! While you need to consult the legality of fireworks in your home state, at the very least, you can bust out some sparklers and enjoy a few sparks in person.
If fireworks aren't all you're looking for, spend some time enjoying a piece of US History. Hamilton, a musical about the founding of the United States, is set to air on Disney+ for the first time on July 3rd. You could also watch the National Treasure movies to get you in the patriotic spirit, which is fun for the whole family.
While you most likely won't get to enjoy food from vendors at a large fireworks display, you can bring some of the holiday flavors home. Stock up on hot dogs, hamburgers, corn on the cob, coleslaw, macaroni salad, your favorite drinks, and of course—ice cream. The more options, the better—it'll be just like being at a firework show.
However you choose to celebrate, we at Orsinger Investment Group, Inc. hope your 4th of July is festive, safe, and happy!