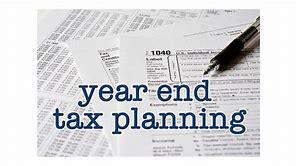 December Topic of the Month: End of the Year Preparations: Start 2020 on the Right Foot
Time seems to fly when we reach the end of the year: there are holiday parties, big dinners with family and friends, gifts to buy, resolutions to set, and oftentimes the things that have to be finished are moved aside in order to make more time for the festive events that we so enjoy. However, there are some of end the year preparations that you don't want to put aside. For example, you'll want to begin preparing for tax season, as it creeps up on us quickly after the turn of the New Year.
The first thing you might consider is whether you have maximized your contributions to any retirement accounts and add to them before the end of the fiscal year if you're financially able. You might also review your savings, checking, and other account balances to take stock of where you are and review your goals and start setting new goals for the coming year. Finally, then, you might consider making any charitable contributions that you see fit before the end of the year; they would have to be finalized by December 31st to appear on your 2019 tax return.
After you've finalized your contributions and assessed your financial decisions, you might consider making a master list of all documents that you will need to submit for the 2019 tax season and check in with yourself once more about any financial changes you intend to make before the start of 2020. You should consider speaking with your financial advisor to prepare for the end of the year and make sure that all your documents are in order. Call Orsinger Investment Group, Inc. at (724)588-9067 should you want to schedule an appointment today!