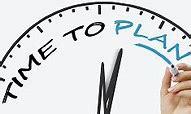 December Topic of the Month: End of Year Financial Planning
The end of 2020 will most likely look a little different for you than recent years have, but no matter what, time is still likely to fly. While we most likely won't gather at large holiday parties or big dinners with family and friends, there are gifts to buy and ship to loved ones, resolutions to set, and decorations to hang. In addition to these festive events, there are also important financial preparations to make as we usher in 2021. For example, you'll want to begin preparing for tax season, as it creeps up on us quickly after the turn of the New Year, and you'll want to review your financial situation as 2020 draws to a close to evaluate any changes, either positive or negative, incurred during the pandemic.
The first step we suggest is to consider your financial situation. Take stock of your savings, checking, and other account balances to determine where you are and review your goals from 2020. You can use this as a starting point to set new goals for the coming year. Then you might review whether you have maximized your contributions to your retirement account(s). If you have—and you have additional funds—you might consider adding it to your savings.  Finally, then, you might consider making any charitable contributions that you see fit before the end of the year; these donations are a great way to give back to your community and they can provide you with an advantageous tax break. Any donations would have to be finalized by December 31st to appear on your 2020 tax return.
Once you've done that, you could begin preparing a master list of all documents you will need to submit for the 2020 tax season and once again revisit your financial goals. This is a great time to get in touch with your financial advisor to review your financial plan as the year comes to a close. Call Orsinger Investment Group, Inc. at (724)588-9067 should you want to schedule an appointment today!